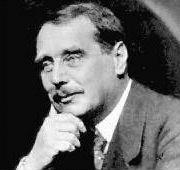 Aims and Functions of the Society
The H.G. Wells Society was founded in 1960. It has an international membership, and aims to promote a widespread interest in the life, work and thought of Herbert George Wells (see "Statement of Objects"). It publishes an annual journal, The Wellsian, and issues a biannual newsletter. It has published a comprehensive bibliography of Wells's published works, and other publications, including a number of works by Wells which have been out of print for many years.
Here is a list of H.G. Wells works currently in print (updated through February 2005), an important note on Wells and Copyright, and a full bibliography.
The Society organises a weekend conference each year when aspects of Wells's life and work are discussed in a congenial atmosphere. Topics discussed in recent years have included
The Short Stories of H.G. Wells
Publishing and Publicising Wells
Wells's Literary Friendships
The War of the Worlds (The proceedings of this conference appear in Foundation 77)
Wells and his Critics
In addition, the Society has organised two major international conferences. The first, under the title, H.G. Wells under Revision, was held in 1986 to mark the 40th anniversary of Wells's death; the second, The Time Machine: Past, Present and Future was held in 1995 to mark the centenary of the publication of Wells's first scientific romance.
SUBSCRIPTIONS
For more information on joining the society, follow this subscription link.
Subscription and other society information is also available through:
Eric Fitch
20 Upper Field Close
Hereford
HR2 7SW
England
UK
Please address publicity enquiries to the society's Publicity Officer, Dr Emelyne Godfrey.
A Note on Submissions for the Newsletter:
Short articles for consideration, as well as, comments, queries and observations, are welcome via post in the first instance if you do not have access to e-mail. However, in order to produce the Newsletter electronically it is important that submissions, if accepted, are word processed and emailed to me in MS Word, to HGWellsNewsletter@gmail.com.
Dr Maxim Shadurski
Department of Anglophone Literature
Siedlce University of Natural Sciences and Humanities
Zytnia 39
Siedlce 08-110
Poland

SOCIETY NEWS AND EVENTS
Emelyne Godfrey's new book, Femininity, Crime and Self-Defence in Victorian Literature and Society: From Dagger-Fans to Suffragettes, features Wells's sensational novel, Ann Veronica (1909), as a major theme. Masculinity, Crime, and Self Defence in Victorian Literature: Duelling with Danger appeared in paperback form in March 2013.
Elizabeth Crawford's website mentions her piece, The Woman's Bond of Freedom: H.G. Wells, Ann Veronica and the Suffragettes, which was published in the Ann Veronica Special Edition of The Wellsian.